Automobile
In multi-point measurement, man-hours increase due to wiring work, and characteristic changes also occur.
By using AirLogger™ to eliminate wiring, man-hours can be reduced.
Normally, measurement jigs need to be used when measuring movable parts such as tires or shafts. However, by using AirLogger™ with its wireless design, such measurement can be performed without jigs.
Comparison Table
Measurement Target
Temperature
Temperature/Voltage
Strain/Acceleration/
Load cell
Product name

WM1000

WM2000TA

WM2000TB

WM2000SA

Ch/Max ch
1 ch/100 ch
2 ch/200 ch
7 ch/700 ch
1 ch/100 ch
Measurement range
−200~+1300℃
(K Type)
Temperature: −200 ~ +1300℃ (K Type)
±20000µST
Voltage: ±12V
Measurement interval
0.1 s to 10 min
Size
35 mm, 35 mm, 14.5 mm
54.5 mm, 45 mm, 17.5 mm
60.5 mm, 49 mm, 17.5 mm
54.5 mm, 45 mm, 17.5 mm
Weight
20 g
36 g
45 g
36 g
Communication distance
10 m
30 m
Battery
CR2032
Special battery *1
Operating temperature range
-15 to 70°C
-40 to 100°C
-30 to 100°C
Lost Data Recovery Function
△ *2
〇
* The max. number of connections can be used when the sampling period is 1 s or longer.
*1 It is also possible to operate the applicable products without using a dedicated battery by using an external power supply cable.
  See optional external power supply.
*2 WM1000 will have a simple lost data recovery function.
Features
Reduces Cable Clutter in the Engine Compartment
Easy connection with a wireless design
Reusable thermocouples that reduce environmental burden
Synchronous measurement of up to 700 channels is possible
Noise resistant structure due to battery operation

Multi-Channel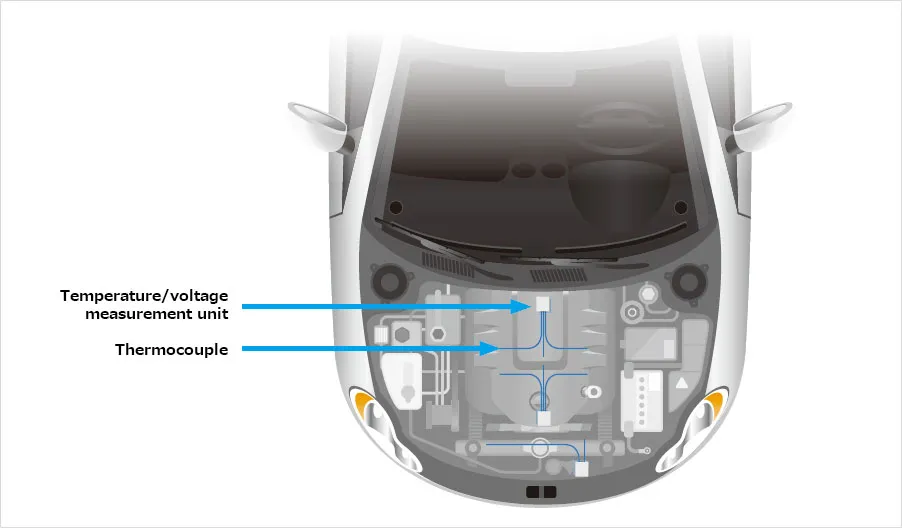 Capable of Measurement of Rotating Objects
Can be installed directly without using slip rings
Easily attached to the drive shaft
Easily attached to tires and brakes

Rotating Objects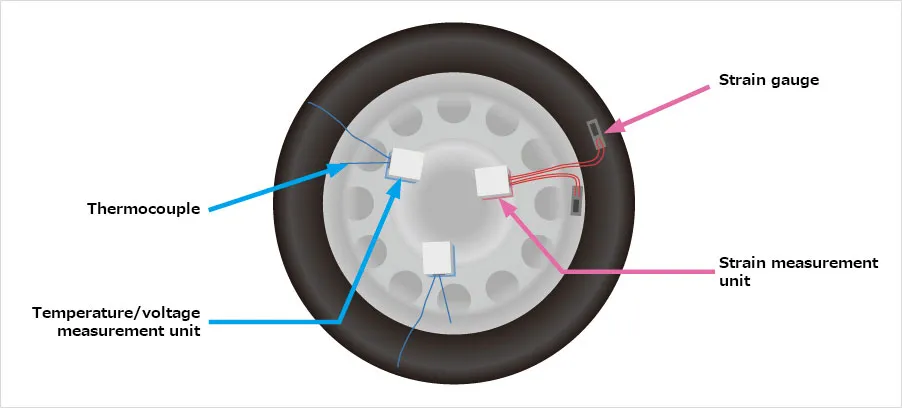 Easy to measure inside and outside the car and even when the car is driving
The length of thermocouples used for measurement is minimized
Temperature measurement on the vehicle exterior can be controlled
from inside the vehicle without opening the window
These light and compact measurement units can be installed anywhere
The vehicle can move with the measurement units attached to parts