Wireless Data Logger WM2000 Series
The AirLogger™ WM2000 Series consists of a data communication unit connected to a Windows PC and various WM2000 Series measurement units that can be selected according to your measurement purposes.
We have added a new measurement unit for dynamic strain to the product lineup, in addition to those for temperature/voltage and strain. The WM2000 series can measure humidity, illumination, pressure, wind speed, load, acceleration, etc., in addition to temperature, voltage, dynamic strain, and static strain, by attaching the different kinds of sensors.
Additionally, a single PC communication unit can simultaneously receive diverse types of measurement data acquired from different measurement units, and that they can be flexibly combined depending on the task, making AirLogger™ even more convenient.
This series also has various options available.
Measurement unit
Data Communication Unit
Measurement Unit
Measurement Target List
Model
Product name
Temperature
Voltage
Strain
When connecting each voltage output sensor
Support for strain gauge transducer
Load cell
Illumination
Pressure
Humidity
Current
Acceleration
Pressure
Vibration
Load
WM2000TA
2 ch Temperature/Voltage Measurement Unit
〇
〇
〇
〇
〇
〇
WM2000TB
7 ch Temperature/Voltage Measurement Unit
〇
〇
〇
〇
〇
〇
WM2000SA
Strain Measurement Unit*
〇
〇
〇
〇
〇
* The 120 Ω or 350 Ω type can be selected depending on the strain gauge to be connected.
Specifications
Product name
2 ch Temperature/Voltage Measurement Unit
WM2000TA
7 ch Temperature/Voltage Measurement Unit
WM2000TB
Strain Measurement Unit
WM2000SA
Measurement ch/unit
2 ch
7 ch
1 ch
Measurement range
Temperature: -200 to +1300°C (K)
Temperature: -200 to +1300°C (K)
±20000µ
Voltage: ±12 V
Voltage: ±12 V
Sampling frequency
Max. 10 Hz
Max. 10 Hz
Max. 10 Hz
Size (mm)
54.5(W) x 45(D) x 17.5(H)
60.5(W) × 49(D) × 17.5(H)
54.5(W) × 45(D) × 17.5(H)
Maximum number of connected units
Max. 100 units
Max. 100 units
Max. 100 units
Number of simultaneous measurement channels
Max. 200 ch
Max. 700 ch
Max. 100 ch
Operating temperature range
-40 to less than +100°C
-40 to less than +100°C
-30 to less than +100°C
Vibration resistance
Equivalent to JIS D 1601 Type 1 Class C
Dust-proof/waterproof capabilities
Equivalent to IP54 (When the waterproof attachment is used)
Features
Small and Excellent Environmental Resistance
The measurement units have been made small with high density mounting technology. They can perform measurement in operating environmental temperatures from -40°C to less than +100°C (depends on the model).
Simultaneous Measurement of Temperature, Strain, and Voltage in flexible combinations
Up to 100 temperature/voltage measurement units, strain measurement units, and dynamic strain measurement units can be arbitrarily combined and their data can be received with one PC communication unit.
The sampling time can be set for each unit, as well as the physical quantity for each channel, enabling real-time monitoring of various types of measurement.

Real-Time Simultaneous Measurement of up to 700 Points
One PC communication unit can be connected to as many as 100 measurement units.
While measuring wirelessly, temperature/voltage can be measured at a maximum of 700 points simultaneously. Measurement points can be dispersed across a broad area.

Software Switch Function
The power switch has been removed from the measurement unit. Units can now be turned on and off from your PC.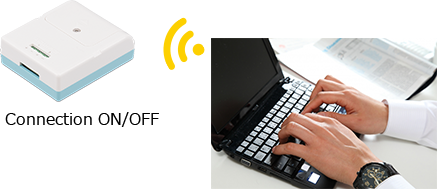 Internal Memory Protects Measurement Data
When the radio environment is poor and data transfer is unstable, the internal memory temporarily stores the measurement data and interpolates the data after measurement. Measurement data can be displayed and stored without any missing portions after being interpolated.

Simple, User-Friendly Software
The main window shows the simple software that has been specialized for measurement functions. The window displays different kinds of measurement data in real-time, and is equipped with different kinds of cursors and analysis tools such as search functions.
Multiple graphs can be displayed in one window, and measurement data can be assigned to arbitrary graphs.
The window can also display remaining battery levels and signal strength for each measurement unit.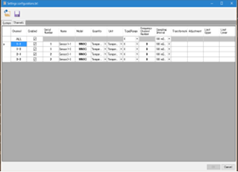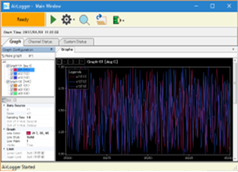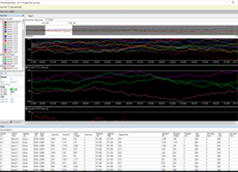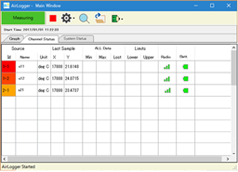 Data Communication Unit
The WM 2000 Series requires the data communication unit in order to wirelessly connect the PC with each measurement unit.
To use each measurement unit, at least one "PC communication unit" must be connected to the PC.
For high-speed communication using the 3 ch Dynamic Strain Measurement Unit (sampling frequency: 20 Hz to 10 kHz, sampling period: 100 μs to 50 ms), the "High-speed data receiver" or "multi-connection high-speed data receiver" is required in addition to the "PC communication unit."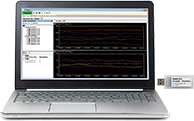 Specifications
Product name
PC communication unit
WM2000ZA
Main function
Control and communication with measurement units
Receiving data
Communication frequency
2.4 GHz
PC Connection
USB I/F
Power supply
From the PC
Number of connected measurement units
100
External dimensions
55 × 23.5 × 8.3 (mm)
Remarks
Required for system operation.